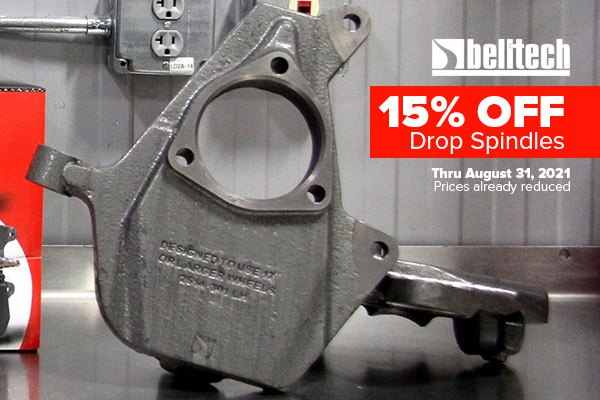 Take your Ford's customized appearance even further by lowering its ride height with a set of Lowering Spindles by Belltech! By relocating the spindle pin higher on the spindle casting, our engineers were able to provide a 2-3" lowering without affecting any other suspension or steering geometry.
Belltech spindles maintain critical suspension geometry and eliminate excessive ball joint, shock and tire wear common to other methods of lowering. Each spindle is built from OEM grade high strength ductile iron, providing the structural integrity to meet and exceed all safety and durability requirements. Kits providing more than 2" of drop include replacement coil springs, leaf springs, hangers, and rear shackles.
This summer, we are pleased to announce an amazing summer offer from Belltech! Catch the best prices possible – you can buy Belltech Drop Spindles with a 15% discount! This offer is valid till August 31, 2021, only. Prices are already reduced.
Belltech® - Lowering Spindle Set