Available for leveled and lifted applications, the Level 8 Pro line is the popular choice for off-roaders seeking both style and function from their wheels.
The Level 8 Bully Pro and Level 8 Tracker Pro come standard with Level 8 Pro Protector Rings (scratch guards) and premium zinc plated mounting
hardware. Purchase the Level 8 Pro Kit and you will receive zinc plated knurled lug nuts, hub centric rings, and get a Level 8 deflator gauge at NO additional charge!
Backed with a lifetime guarantee against workmanship and structural defect, Level 8 delivers innovative features and superior off-road protection with
the Bully Pro and Tracker Pro wheel models.
Click Here For:
Level 8 Bully Pro and Tracker Pro Pricing and Availability
*Please note that our website specifies the Pro wheels by the number of lug holes; E.G. Bully Pro 5, Tracker Pro 6, etc.

15-inch to 17-inch sizes in 5, 6 and 8-lug bolt patterns
Low offsets for lifted or leveled trucks and SUVs
Removable bolt on scratch guard protect wheels against off-road damage
Premium zinc plated scratch guard hardware included for extreme corrosion resistance
Durable three stage painted PRO BLACK finish
Designed with no center cap, because who wants to deal with center caps off-road
Dual valve stem to aid in inflation after a hard day off-road
Modified bead retention seats designed to help keep the tire on the wheel when used off-road
Deep drop center for quick tire changes in the field
TPMS compatible
Level 8 Pro Kit (purchase of four Level 8 Pro Wheels) includes:



- Premium zinc plated knurled lug nuts
- Hub centric rings
- Level 8 deflator gauge

Lifetime warranty on the structure of the wheel to be free from defects in workmanship and materials
1-year warranty on finish
Load capacity:



- 5-lug 2400 lbs.
- 6-lug 2400lbs.
- 8-lug 3640 lbs.
15x8.5 ET-26 (3.75" BS) ~19lbs
16x8.5 ET-6 (4.5" BS) ~22lbs
17x9 ET-12 (4.5" BS) ~24lbs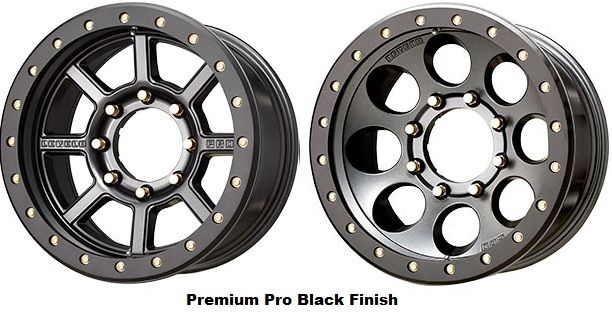 Level 8 Bully Pro 8 Kit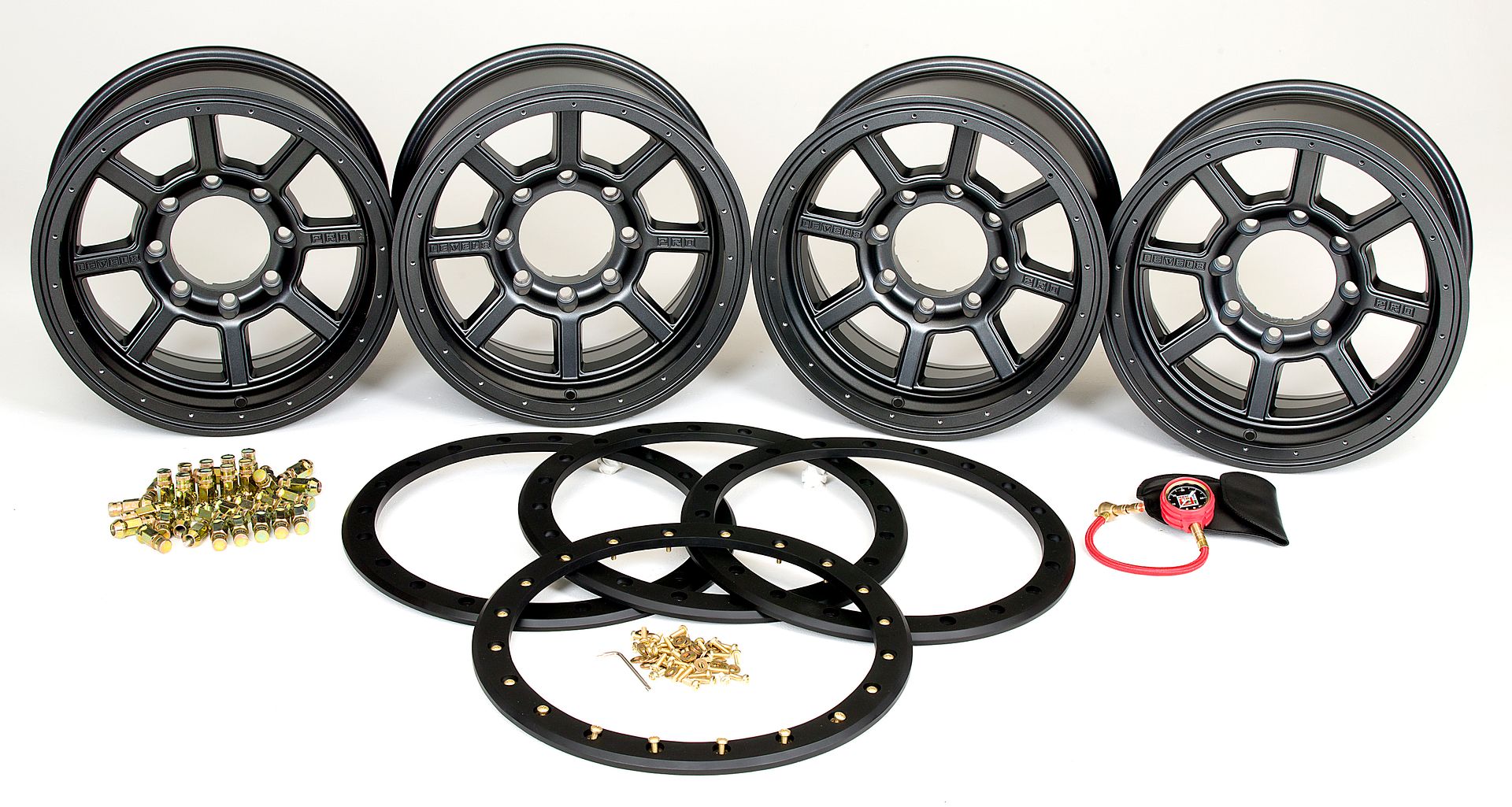 Level 8 Tracker Pro 8 Kit